Metrolab: een waar feestje!
30 november 2018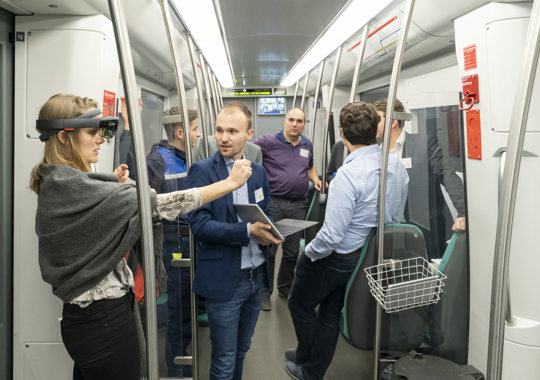 Op donderdag 29 november reed het Metrolab! In het kader van 50 jaar metro reed deze speciale metro heen en weer. Deelnemers van de RET, gemeente, MRDH, Movares, Motion10, KPN, Zadkine en Railforum keken met frisse blik naar het vraagstuk: Hoe houden we het rijden op het RET-metronetwerk de komende 10 jaar aangenaam? Het aantal reizigers groeit snel, maar we weten dat we niet zomaar meer of langere metro's krijgen. Wat moeten we dan wel doen? 
Antwoord vinden
Het Metrolab vond plaats in een speciale metro, die werd ingericht met innovatieve middelen, zoals speciale schermen en een hololens. De ruim 50 deelnemers reden mee in de metro en probeerden ondertussen een antwoord te vinden op het vraagstuk hoe we de komende 10 jaar het reizen op het RET-metronetwerk aangenaam houden. Daar werden ze bij geholpen door sprekers die in- en uitstapten. 
De diversiteit in deelnemers stimuleerde nieuwe, creatieve ideeën. In groepen konden de deelnemers met het vraagstuk aan de slag, uiteindelijk pitchten ze hun idee aan een jury. 
Winnaars
Het winnende team kwam met drie oplossingen om de spreiding over en in de voertuigen op te lossen:
een stoplichtsysteem om te laten zien welke metro vol is en welke nog veel ruimte heeft
een stoplichtsysteem om op het perron te laten zien welk deel van het voertuig nog veel ruimte heeft
een manier om te zorgen dat reizigers niet bij de deur, maar in het middenpad gaan staan. 
Hoewel ook de oplossingen van de andere groepen raakvlakken hadden met deze oplossing, koos de jury snel en unaniem voor het winnende team. 
Ben je benieuwd naar een samenvatting van deze dag? Bekijk dan het filmpje of de foto's onderaan.